July 27th, 1998.
Bill Clinton is the President of the United States. Amazon is a harmless, happy little bookstore, and I am a spritely 6 days old, still trying to figure out what in the world is happening.
But more importantly than any of that, the Pittsburgh Pirates were in Colorado for an early week series with the Rockies.
Baseball >> Everything else in life. Your moral of the story.
Anyway, the Pirates enter this particular series with a record of 49-56, sitting 5th in the NL Central, below everyone except for the lowly Milwaukee Brewers. Manager Gene Lamont is struggling through his first season at the helm of the Jolly Roger, trying to guide a roster where the average position player age is 26.2 back to the postseason for the first time since Sid Bream broke Pittsburgh hearts in 1992.
The Rockies, in just their 6th season since being born to Major League Baseball in 1993, enter the series with a record of 46-59, chasing the National League best San Diego Padres. Led by the trio of Larry Walker, Dante Bichette and Todd Helton, the Rockies boast an impressive offensive pedigree, 5th in baseball in runs scored.
Both teams being well out of the playoff chase, the game means next to nothing to anyone not affiliated with either side.
Hell, it probably doesn't even mean that much to those affiliated with each side. But is that gonna stop us from talking about it 20 years later? That answer should be fairly clear. 
In the 3rd inning, a perfect culmination of random weirdness exploded over the course of 15 seconds to create the ultimate baseball moment that has brought us here, together, over 20 years later.
The bottom of Colorado's staunch hitting order came to bat in the bottom of the 3rd inning, already down 5-1. Pirates' starter Todd Van Poppel made quick work of catcher Kirt Manuring and starting pitcher Mark Brownson before the Rockies' lineup flipped over, bringing shortstop Neifi Perez to the plate for his second at bat of the game.
Now, maybe you know what comes next, maybe you don't. The short version is that, on a 3-2 count, Perez drilled a Van Poppel fastball deep to right field and off the wall, above a leaping Jose Guillen. Rounding second base and thinking he had an easy triple, Perez was stunningly thrown out by a Guillen laser beam that soared from the Coors Field warning track to 3rd base on the fly.
https://www.youtube.com/watch?v=DFAbXnlzZGQ
However, we aren't here to discuss the 'short' version of the play. So let's get out the proverbial shovel and dig in a little bit.
Just in and of itself, it's a downright absurd play. It's at the forefront of the 'best baseball throw ever' discussion and the play-by-play announcer on the video even went so far as to say the play showed "shades of Roberto Clemente."
In my lifetime, I've only ever seen two throws like it, both also made in Colorado, and both made with the help of significant crow-hops by players known for their strong arms in Rick Ankiel and Yasiel Puig.
But the beauty of this play doesn't so much lie in the play itself, but more in who made the play.
First of all, the fact that Neifi Perez is hitting in the leadoff spot for an actual Major League team in 1998 needs to be discussed.
Perez, a native of the Dominican Republic, was signed as an international free agent in the summer of 1992 as an 18 year old. His lauded defensive skills carried him through the minor leagues over the course of the next four years, a highlight being his turning of the first unassisted triple play in California League history before making it all the way up to debut in 1996 for a cup of coffee with the still brand new Rockies.
Unfortunately, that 1996 cup of coffee was unceremoniously spilled onto everyone who tried drinking it. Perez flopped to the tune of a .156/.156/.200 slash line over 46 PA, good for a WRC+ of -43 and -0.9 fWAR. But hey, this was still a highly touted 23 year old shortstop and a really small sample size, so more chances will come. 
And, in 1997, Perez somewhat took advantage of those chances, slashing a much more impressive .291/.333/.444 over 344 PA, good for 0.7 fWAR. Entering his age 25 season in 1998, Perez had supplanted the incumbent Walt Weiss (name drop) as the Rockies' everyday shortstop and Colorado was hoping he could build on that 1997 season in a positive way.
What they got instead was the beginning of one of the worst offensive careers in Major League history.
Perez slashed .274/.313/.382 in 1998, good for 59 WRC+ and -1.6 fWAR, an absolutely putrid line over the course of 712 plate appearances. His career includes the 4th lowest Fangraphs OFF score in the history of the live ball era at -305.1 offensive runs below average – roughly equivalent to being worth around -35 wins offensively.
A highlight (lowlight..?) of that career is a stretch of 5 straight seasons, beginning in 1998 and ending in 2002, where Perez accrued negative fWAR each respective year.
Now, it's impossible for the Rockies to have known that they currently employed one of the 5 worst Major League hitters of all time. But still, by the time Neifi Perez was coming to the plate on July 27th, 1998, it was painfully evident that this wasn't a guy that should be hitting in the invaluable leadoff spot for such a powerful Colorado lineup.
However, despite what you now know about his offensive profile, Perez managed – on this one special occasion – to barrel up a fastball and drive it to the right field wall. Which brings us to the other side of this equation.
Our friend Jose Guillen, the Pirates' 22 year old Dominican right fielder, is currently in the midst of his own disastrous campaign. As rough as Perez's first taste of the big leagues was, Guillen's has been significantly worse.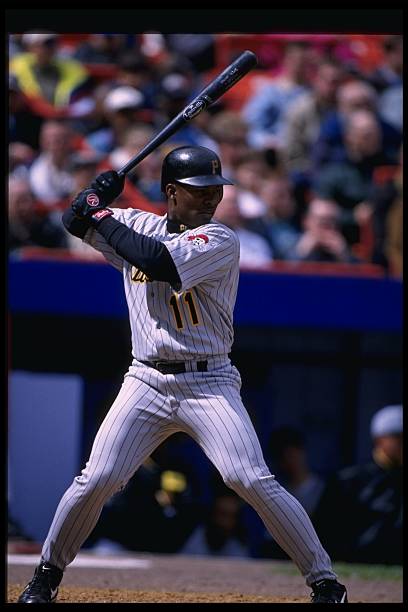 It couldn't have been known at the time, but Guillen would finish the 1998 season at -3.1 fWAR, the 5th worst fWAR season since 1920.
(Magically and coincidentally for the sake of this article, the 6th worst fWAR season of all time just so happens to belong to Neifi Perez in 2002 at -2.9.)
Now, over 526 plate appearances, Guillen slugged 14 HR's and posted a .712 OPS, good for 82 WRC+. Although comfortably below league average, these numbers aren't too terrible for a 22 year old rookie. So, offensively, our friend Jose isn't the historically terrible player that I have portrayed him as.
However, Guillen's defense is truly what sets him apart in the annals of awful-ness.
With a total zone score of -27 (0 is league average) and a Fangraphs DEF score of -34.7 (the 5th worst single season DEF score of all position players since 1920), Guillen's playing of right field resembled something much closer to Bambi wearing stilettos on ice rather than Roberto Clemente.
So, at this point in the play, Neifi Perez has achieved the minor miracle of hitting a ball to the right field wall. Considering everything we now know about Jose Guillen's defense, seeing him miss making the catch and flopping up against the Coors Field scoreboard like an octopus in a washing machine sure makes a lot more sense.
But then it happens.
Jose Guillen uncorks the throw, catching lightning in a bottle, and guns down Neifi Perez on his way to 3rd base with a nearly 350 foot laser beam. The play is captured and preserved in immortality and immediately entered into the conversation for 'best throw ever'.
Again, it's a mind-blowing play just by itself. But when you consider that we're combining one of the worst offensive players of all time at peak bad-ness and one of the worst defensive players of all time at peak bad-ness, Jose Guillen's warning track throw ventures away from 'amazing' and into 'miracle explosion of weirdness.'
Welcome to the Twilight Zone.
Thank you for reading
-Ryan